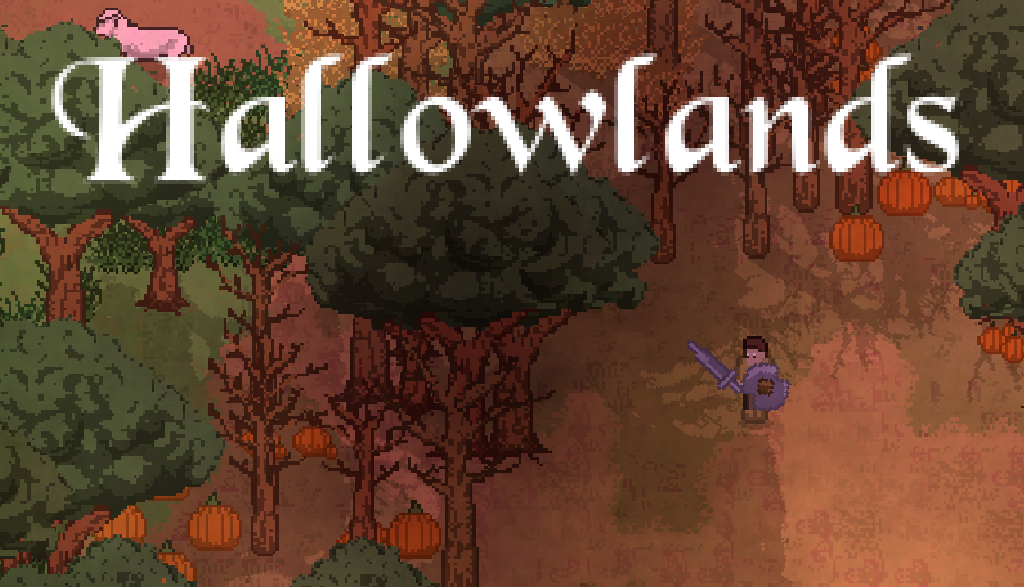 Hallowlands
A downloadable game for Windows, macOS, and Linux
Steam | YouTube | Twitter | Discord

Features

Open world exploration

Procedural generated world with multiple biomes
RPG mechanics/systems
Harvesting resources
Crafting, Building, and Farming systems
Numerous weapon classes
Numerous magic types
Description
Explore a procedurally generated open world with many biomes to explore and harvest resources from. You can chop down trees, mine rocks/ore, and find unique items to help you along your journey. Using the resources that you find, you can craft powerful weapons and items. And as you explore the world, you will come across winding cave systems and treacherous dungeons full of monsters for you to defeat.
| | |
| --- | --- |
| Updated | 3 days ago |
| Status | In development |
| Platforms | Windows, macOS, Linux |
| Author | RevolutionaryInteractive |
| Genre | Role Playing, Adventure |
| Tags | 2D, Dungeon Crawler, Fantasy, Hack and Slash, Loot, Nonlinear, Open World, Procedural Generation |
Download
Comments
Log in with itch.io to leave a comment.
While this is already quite a beautiful and complex game, I see that the procedural generation is a bit rough, still. For instance, on the second level of the cave that is due-east of town, at least 75% is walled off from where you enter. I believe the seed number is 2708623202, if seed number appears in the bottom-right of the pause menu with version number and that. I have also had bodies of water block off a large part of a cave, but can't cite a seed number.

I think it would be really useful to have an option to blow up the mini-map to full screen, as well. At least for me. I tend to venture pretty far on occasion and forget the exact direction/location of the town. Thank goodness my character has never died under these circumstances, lol.
Cool, I will take a look at the seed that you provided to see if I can make some improvements to the generation algorithm. Also adding a larger map would be a good idea. So I will take a look at adding that as well.
What will you do now the KS is nearly done and not funded?
Right now I'm not 100% sure. But I definitely want to keep working on the game.
If the Kickstarter doesn't succeed, I might try to put the game into Steam early access but I'm not 100% sure yet.
Could you make the game support 32 bit Version ? It would be great.
Could you make it playable in browser?
This seems so good but I can't download it.
I was thinking about doing that, but I'm not sure if it will work in a browser. Because the game has a chunk system for loading the map so it has to load an unload chunks of the game. Also the game would probably take a lot longer to generate the world in a browser.
So, I can take a look at it but I'm not sure if I will be able to get it to work in a browser.